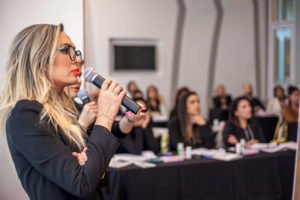 The scar & stretch marks camouflage tattoo training course transforms lives as well-qualified professionals in Brazilian camouflage tattoos can solve problems that quite often even doctors cannot solve.
Fernanda Jaffre scar camouflage tattoo training helps form future professionals that are capable of changing others lives forever. Rebuilding people's self-esteem.
For many years women have been seeking a solution for their stretch marks, scars, and incurable marks from all over the world.
There has been thousands of products, methods, and treatments created, but none of these were able to solve the psychological trauma these women had to go through.
But among all these thousands of alternatives, has there been any that could genuinely solve this problem?
No. None of them was able to solve it. Why? because what really bothered them is the fact that these marks continued being visible. Fernanda Jaffre also felt bothered by that, and in one of her researches, she sought something that could genuinely solve her problem.
It was at that time that she discovered the Brazilian camouflage tattoo technique. Also known as Cosmetic tattoo, medical tattoo, or paramedical tattoo.
That was when Fernanda noticed that she had found something valuable. Besides being able to help thousands of women recovery their self-esteem, she also had the opportunity to work in one of the most prosperous market segments in the world, the beauty industry.
Fernanda became enchanted with the technique even before having any previous experience in the beauty segment and/or tattooing; she decided to take the scar & stretch marks camouflage tattoo training course. She didn't have any idea of the positive impact that course would bring about in her life.