Who is Fernanda Jaffre? Before you look for a specialist to perform a procedure or a master to teach you a new technique, it is essential to know them very well!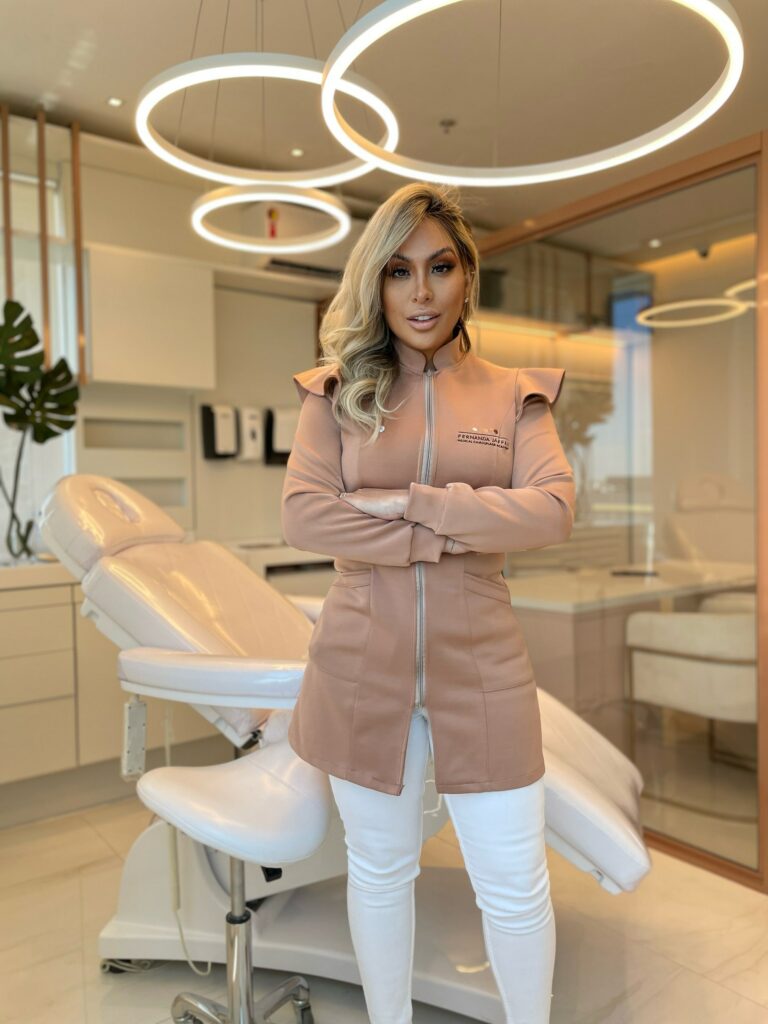 I am master specialist in one of the most renowned techniques in the paramedical tattoo industry: the scar cover-up tattoo technique. I also teach students around the globe to camouflage and cover stretch marks, scars, skin blemishes, and vitiligo.
I discovered the Brazilian camouflage tattoo at a moment when the technique has been unexploited in the Permanent makeup (PMU) industry.
I took the first existing training course on Brazilian cosmetic camouflage tattoo in the world. It was difficult, in the beginning, as information was not readily available as it is nowadays on the camouflage technique.
I knew about the cosmetic tattoo industry, but everything was entirely new to me, after all, I had been working in the business administration field.
I was very determined and courageous in my studies, research, and practice on models. On countless days, I continued my studies relentlessly on diverse skin tones, scars, stretch marks, and stains fostering the development of my knowledge and professional skills on techniques of medical tattooing.
Up until now, I maintain the same commitment and discipline.
Since I wish to help as many people out there as I can. Help those who have suffered and lost confidence due to these permanent marks in bringing their smile back and allow them to cherish the best in their life. Without having to worry about their aspect or how others may look at them.
I am also a biomedical science academic scholar, as I have applied such specialization to expand my know-how on the technical segments related to cosmetic tattoos, such as:
➜Physiology and skin anatomy: Knowledge I apply to the personal analysis of each patient, understanding, and regarding each case seeking to achieve the best possible results from my work on stretch marks and scar camouflage tattooing.
➜ Pigment chemistry: This technical knowledge was essential so I could understand the behavior of pigment molecules; as that way, it was possible to master colorimetry applied to the scar cover up tattoo technique.
Among other types of knowledge utilized in the Brazilian camouflage tattooing technique. All this made it possible for me to create a unique and efficient camouflaging method. I use this method in my camouflaging procedures, and I share it with my scar camouflage tattoo training students.
After developing and perfecting my professional skills, I became the master and world-wide renowned artist on the Brazilian camouflage tattoo technique.
My method was internationally tested and approved, and I have taught students and prepared them as practitioners in Latin America, North America, Europe, the Middle East, and Asia. Today, I can proudly say that I have certified students on every continent in the world.
The stretch mark camouflage tattoo training was taught for a long time merely in a face-to-face classroom. Then, after years of experience and preparing hundreds of professional practitioners around the world, now you can take the scar camouflage tattoo online training course, the Brazilian camouflage tattoo technique stands out in the cosmetic tattoo industry.
I, Fernanda Jaffre, interact with you remotely through video conference calls teaching you the scar camouflage tattoo online training course. It has taken years to make this course available to you, as it was being studied and perfected to provide you an optimal learning experience.
Therefore on this website, you can find all or the majority of the necessary information for clarifying your doubts and questions related to the Brazilian camouflage tattoo technique.